Blackmagic Design Releases Camera 1.9.5 Software Upgrade for Production Camera 4K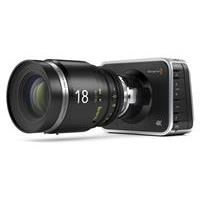 New free upgrade includes dashboard on screen menus and high performance disk formatting for the Blackmagic Production Camera 4K
Blackmagic Design today announced the immediate availability of Camera 1.9.5 software which includes dashboard on screen menus and high performance disk formatting for the Blackmagic Production Camera 4K.
Camera 1.9.5 update is available now free of charge from the Blackmagic Design website.
The new disk formatting feature allows customers to format SSD's in camera so they don't need to use a computer to prepare disks for recording. This new disk formatting feature is unique because unlike computers that format disks for general storage use, the Blackmagic Production Camera 4K can format disks optimized for high performance video use. When formatting the camera confirms the brand of disk and other disks parameters and then formats for highest speed video data recording and playback for that specific type of disk.
This also means that as new disks are released in the future, new software can be released to take advantage of unique features of disks for maximum performance when recording high data rate RAW 4K images.
Customers also get the opportunity to choose between two disk formats, ExFAT and HFS+. The ExFAT is compatible with both Windows and Mac OS X so is a good choice when customers are working on Windows or working between Windows and Mac OS X platforms as both platforms natively will read the disk. When customers are working on Mac OS X exclusively, the HFS+ format is the native Mac OS format and this allows higher performance for Mac users as well as better error protection because HFS+ supports journaling.
Allowing easy selection of the format to erase the disk, the new Blackmagic Camera Update 1.9.5 also includes a new dashboard menu that allows actions on camera functions to be selected quickly. Customers can choose to format disks, enable focus peaking, go to the settings page and other camera operations on nice big easy to use buttons.
"We are very happy to release this software to allow formatting on the Blackmagic Production Camera 4K ," said Grant Petty, CEO of Blackmagic Design. "Having this new formatting feature in the camera means customers get increased connivance as well as getting the most out of the SSD's so they can record higher data rate but extremely high quality RAW formats easier then ever before!"
Blackmagic Production Camera 4K Key Features
Large high resolution 4K Super 35 mm sized sensor with superior handing of image detail.
Professional global shutter for smooth pans and image motion.
Wide 12 stops of dynamic range allows capture of increased details for feature film look.
Compatible with extremely high quality EF mount lenses.
Built in SSD recorder allows long duration recording onto solid state disks.
Open file formats compatible with popular NLE software, such as Apple ProRes and compressed CinemaDNG 12 bit RAW. No custom file formats.
Features all standard connections, including jack mic/line audio in, 6G-SDI output for monitoring with camera status graphic overlay, headphone mini jack, Thunderbolt, LANC remote control and standard DC 12 power connection.
Built in touch screen LCD for camera settings and metadata entry compatible with popular video editing software including Final Cut Pro X.
Supports Ultra HD and 1080HD resolution capture in 23.98, 24, 25, 29.97 and 30 fps.
Includes UltraScope software for live scopes via the built in Thunderbolt connection.
Includes DaVinci Resolve color grading software.
Availability and Price
Camera 1.9.5 is available now for download from the Blackmagic Design web site free of charge for all Blackmagic Production Camera 4K customers.
About Blackmagic Design
Blackmagic Design creates the world's highest quality video editing products, digital film cameras, color correctors, video converters, video monitoring, routers, live production switchers, disk recorders, waveform monitors and real time film scanners for the feature film, post production and television broadcast industries. Blackmagic Design's DeckLink capture cards launched a revolution in quality and affordability in post production, while the company's Emmy™ award winning DaVinci color correction products have dominated the television and film industry since 1984. Blackmagic Design continues ground breaking innovations including 6G-SDI and 12G-SDI products and stereoscopic 3D and Ultra HD workflows. Founded by world leading post production editors and engineers, Blackmagic Design has offices in the USA, UK, Japan, Singapore and Australia. For more information, please go to http://www.blackmagicdesign.com.