GoPro Rolls Out HD HERO3 Compact HD Cams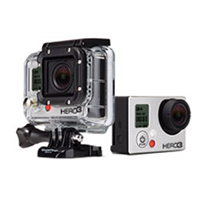 Available in White, Silver, and $399, top-of-the-line Black Edition that delivers astounding 4K and 2.7K video resolutions all in the size of a small box of matches


Page 1

GoPro, maker of the world's most versatile and durable cameras and producer of today's most engaging content announces the release of its new HD HERO3 camera line up in White, Silver and Black editions.  

Each new addition retains the iconic look of the previous award winning HD HERO cameras, but comes in about half the size of its predecessors and has built-in Wi-Fi technology. At the top of the new product line up, the HD HERO3 Black Edition is one of the most powerful camera systems available, delivering astounding 4K and 2.7K video resolutions all in the size of a small box of matches, making it easier to share your world.

The White, Silver and Black editions are available for pre-order at GoPro.com and are shipping to specialty retailers around the world for MSRP $199.99, $299.99 and $399.99 respectively.


Page 1

Related Articles
The GoPro Hero3 Black Edition has a number of standout features, which have set the bar even higher for tiny HD video and still cameras, but the focus of this review will be not just the top-of-the-line new model's range of great features, but the ability to stream video live from the camera via a WiFi connection to a tablet or Smartphone.