Live-Switched Webcast Production Survey – Streaming Media Producer

Live-switched video is fast becoming live-switched webcasting, as producers and their clients embrace the power and immediacy of delivering their content live to targeted audiences worldwide via streaming media. Our survey will help identify trends in this fast-growing field, and for participating, you can win a GoPro Hero3 camera.


Page 1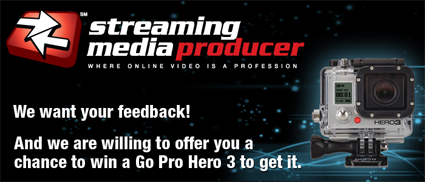 Streaming Media and Streaming Media Producer are conducting primary research in the area of live-switched webcast production, which encompasses live performances, sports events, worship services, conferences and corporate meetings, distance learning, and other types of productions delivered exclusively via streaming video or in addition to traditional broadcast, IMAG, or physical media. 
This 4-minute survey will help us identify trends for an upcoming publication. All participants will receive a copy of the survey results. You will also be entered to win a GoPro Hero3 Camera for participating.
This survey closes Friday, December 14, 2012. The winner of the GoPro Hero3 will be announced on Monday, December 17.



Page 1