NetEase Games Used Blackmagic Workflow for Identity V eSports Tournament
Five Blackmagic URSA Broadcasts were used to capture players on stage. The camera output of those five cameras were sent to the ATEM Constellation 8K via a Smart Videohub 40 x 40 router, while an ATEM 2 M/E Advanced Panel was used for switching with PGM output sent to the third switcher for streaming.
Zheng XiaoXiang, a manager of esports department at NetEase Games, said: "We needed something that allowed us camera control in real time. There was a dance scene in the opening of the tournament, with dancers in the costumes of Identity V characters, and we wanted to capture the scene in good quality. With the ATEM Constellation 8K, we could do camera control from the switcher, as well as keep the cost low, so there was no other alternative. It was also really handy to use ATEM Camera Control Panel for camera control."
"As for game footage, we used six cameras. In esports, there is a so called Observer, who is a cameraman inside the game. Their existence does not influence the game itself, while they change the view point of game freely and send game footage to a streaming studio. Their ability to capture good picture affects the quality of the game match greatly, so their role is important. We received game footage from smartphones and PCs from the observers and switched that with the ATEM 2M/E Production Studio."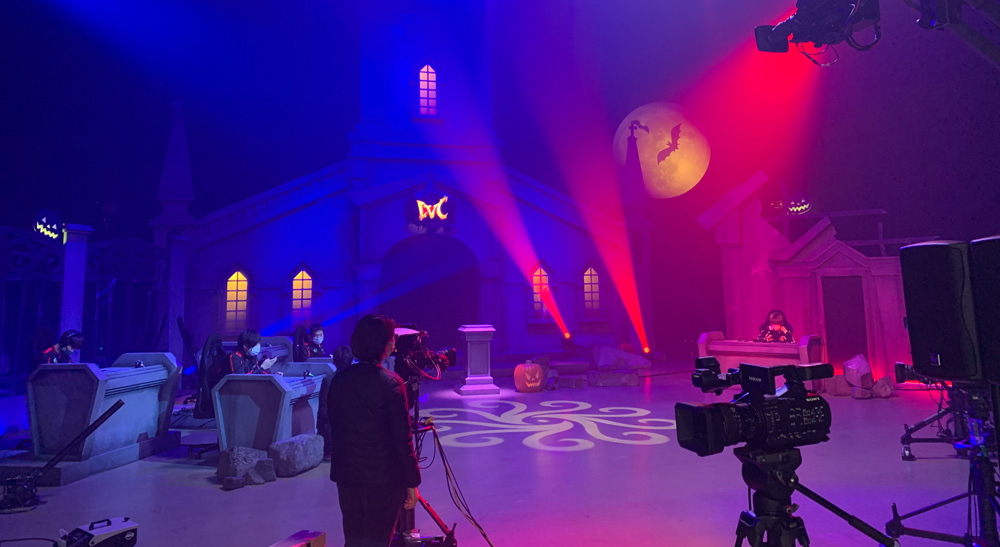 Also, for the tournament NetEase created a church on the main stage and on the set which included a large LED display. This was used to play the image of inside the church via HyperDeck Studio Mini to give more depth for the set. Also when each game was finished, the logo of the winning team was displayed. A Blackmagic Design ATEM Television Studio Pro 4K was used for switching church images and logos using a macro created for the tournament.
NetEase Games also shot behind the scene footage of players that day. Xu Xinyu, content director of eSports department, said: "We firstly planned to photograph behind the scene, but were told it was too dark to take photos so we decided to shoot a movie with a Blackmagic Pocket Cinema Camera 4K. Showing the movie received favorable reaction from fans of the players as they could see each player's natural self which they are not able to normally see."
Zheng added: "Our documentary team and I looked for a camera that was capable of capturing good images, even in low light situation. We chose the Pocket Cinema Camera 4K as it was portable and could mount on a gimbal, as well as take excellent images under low light. We shot in BRAW which was beautiful and without any noise. We did post production using DaVinci Resolve Studio."
Besides what they used for their main streaming system, they brought many Blackmagic products for the tournament day. "We actually did not have to have the Smart Videohub as the ATEM Constellation 8K could receive camera outputs directly, however we brought two Smart Videohub 40 x 40. There are about 100 people involve in this tournament and they needed to check the picture at various locations in the venue. We used the Videohub to send program outputs to each display. We also used Video Assist 12G HDR to check if signals were really sent and received. We used many Blackmagic products for this tournament and they were necessary to make our entire operation for tournament smooth and successful."
About Blackmagic Design
Blackmagic Design creates the world's highest quality video editing products, digital film cameras, color correctors, video converters, video monitoring, routers, live production switchers, disk recorders, waveform monitors and real time film scanners for the feature film, post production and television broadcast industries. Blackmagic Design's DeckLink capture cards launched a revolution in quality and affordability in post production, while the company's Emmy™ award winning DaVinci color correction products have dominated the television and film industry since 1984. Blackmagic Design continues ground breaking innovations including 6G-SDI and 12G-SDI products and stereoscopic 3D and Ultra HD workflows. Founded by world leading post production editors and engineers, Blackmagic Design has offices in the USA, UK, Japan, Singapore and Australia. For more information, please go to www.blackmagicdesign.com.