Panasonic Adds LiveU, AVIWEST, Streambox, and TVU Networks as Uplink Options for Panasonic HPX600 P2 Camcorder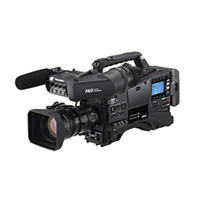 The integation of the Panasonic P2 camcorder with uplink solutions will enable easy, one-person operation of popular bonded cellular video transmitters that utilize multiple wireless data links to provide a remote video uplink for a fraction of the cost of current technologies


Page 1

Panasonic has announced four partners for operational integration with live video uplink transmitter devices and the AG-HPX600 P2 HD camcorder. In addition to the original development partner, LiveU, the new live uplink solution partners now include AVIWEST, Streambox and TVU Networks.

This integration will enable easy, one-person operation of popular bonded cellular video transmitters that utilize multiple wireless data links to provide a remote video uplink for a fraction of the cost of current technologies. In addition to the SDI connection from the camcorder that feeds video into the respective cellular video transmitter, there will be an option for additional communication between the HPX600, and either LiveU's LU40, AVIWEST's DMNG® PRO180, Streambox's Avenir Mini or TVU Networks's TVUPack and TVUPack Mini, all via USB.

The new feature can be activated in the HPX600 with the AG-SFU603G firmware upgrade key. The feature, launched in February 2013, activates a USB communication interface. This communication allows the uplink device's "start-and-stop" to be controlled from the HPX600, and the device status to be displayed on the HPX600 viewfinder, so that a one-person crew can easily operate both camera and transmitter to capture breaking news live.

"The demand for live video transmission in the field is increasing worldwide, and we would like to strengthen our partnership with live uplink solution providers," said Kunihiko Miyagi, Director of Professional AV Business Unit, Panasonic Corporation. "Panasonic will offer customers a simple, multifunctional camera that is further diversified with these uplink solution partnerships."

The AG-HPX600 and these uplink solution partners' devices will be on display in each partner's booth at the 2013 National Association of Broadcasters convention, to be held at the Las Vegas Convention Center from April 8 to April 11.

The AG-SFU603G upgrade key is now available for a suggested list price of $300.

For further information about Panasonic professional video products, visithttp://www.panasonic.com/broadcast.


Page 1

Related Articles
Hitachi and LiveU are collaborating to deliver an integrated professional live camera incorporating LiveU's LU40 compact video uplink device into Hitachi's professional video cameras, enabling camera operators to view and manage LiveU's transmission status and video quality in real-time
The new JVC GV-LS2 and GV-LS1 combine the video performance of a top-quality conventional camcorder with the remote-operation capabilities of a high-end security camera and roll them into a compact device with Wi-Fi and remote control
The new Smart Grip device holds a MiFi channel that bonds together with the smartphone's internal 3G/4G connection to create two combined cellular connections beyond the smartphone, boosting the phone's live video transmission quality, reliability and performance, without any need for Wi-Fi connectivity