Teradek Announces Bolt XT and LT Zero-Delay Wireless Video Systems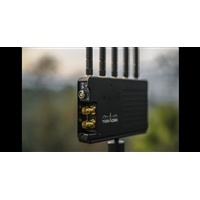 The new Bolt XT and LT demonstrate a union of form and function, their elegant design incorporating useful features like pass-through battery plates, an integrated NATO rail, dual SDI outputs, and backward compatibility
New for NAB 2018, the venerable Teradek Bolt is receiving a massive upgrade with two new lines of zero-delay wireless video systems. Completely reimagined, the new Bolt XT and LT demonstrate a union of form and function, their elegant design incorporating useful features like pass-through battery plates, an integrated NATO rail, dual SDI outputs, and backward compatibility. Bolt XT and LT will begin shipping May 2018.
Bolt XT
The Bolt XT satisfies the needs of the most discerning professionals, from powerful software tools and rock-solid performance to smart power options and backward compatibility. Available with a maximum range of 500ft, 1000ft, 3000ft, or 10,000ft, the new Bolt XT line offers a professional solution for every budget.
A key feature of the Bolt XT is its backward compatibility with Bolt 500, 1000, 3000, Sidekick II, and 703 Bolt, giving users more flexibility building onto their existing systems or linking with others already on set. Unlike alternative wireless video systems, Bolt XT includes a unique AES 128 encryption algorithm to protect your video footage, ensuring only authorized receivers can connect to your transmitter.
Each transmitter includes an HDMI, 3G-SDI and looping 3G-SDI output. Receivers feature an HDMI output as well as dual 3G-SDI outputs. While wireless performance is critical on set, so are practical mounting options that ensure optimal performance and a quick set-up. With the Bolt XT line, Teradek has added an integrated NATO rail on the receiver, several 1/4"-20 and 3/8" mounting points, and an ARRI rosette on the transmitter to greatly improve available mounting configurations.
An all-new aluminum chassis further reduces the size and weight of the Bolt line, with receivers now offering integrated pass-through power. Available battery plate accessories include V- or Gold-mount, in addition to bi-directional Sony L-series or Canon LP-E6 plates on the Bolt 500 XT. Teradek has also replaced the internal antennas on the Bolt 500 XT transmitter with an external set to enhance wireless performance when operating in environments with large obstacles or heavy interference.
The Bolt XT, like the previous generation, is multicast capable up to 4 receivers and includes built-in cross conversion and Teradek's proprietary software utilities, including a manual frequency-selection tool, 3D LUT engine, and a 5GHz spectrum analyzer to keep an eye on interference in your area.
Shipping May 2018
Pricing:
Bolt 500 XT: $2490 Bolt 1000 XT: $4990 Bolt 3000 XT: $9990
Bolt LT
The Bolt LT takes Teradek's industry-leading wireless performance and packages it into an affordable, streamlined series of zero-delay wireless video systems. The LT line is available in 500ft or 1000ft
max-range models, with the 500 LT offering external antennas on the transmitter for enhanced wireless performance.
Not only lighter, but smaller too, the Bolt LT is the essential, no-frills high performance wireless video system. Each transmitter includes a single 3G-SDI or HDMI input with matching looping output, while the receiver includes a single 3G-SDI or HDMI output. Several 3⁄8" and 1⁄4"-20 mounting points allow Bolt LT to mount seamlessly to any camera rig and integrated bi-directional Sony L-series or Canon LP-E6 pass-through battery plates allow you to power your system far more easily than before.
Existing 3rd-generation Bolt users can rejoice because Teradek designed the Bolt LT to be backward compatible with the Bolt 500, 1000, Sidekick II, and 703 Bolt, as well as the powerful new Bolt XT. This feature makes it easier than ever to build onto existing Bolt systems or plug into others already operating on set.
The Bolt LT also retains critical features from the previous generation, including AES 128 encryption to protect your video feed from prying eyes and multicasting to up to 4 receivers.
Available May 2018
Pricing:
Bolt 500 LT (HDMI): $1490 Bolt 500 LT (SDI): $1990 Bolt 1000 LT (SDI): $2990
For more information, visit: http://teradek.com/boltxt
##
About Teradek
Teradek designs and manufacturers high performance video solutions for broadcast, cinema, and general imaging applications. From wireless monitoring, color correction, and lens control, to live streaming, SaaS solutions, and IP video distribution, Teradek technology is used around the world by professionals and amateurs alike to capture and share compelling content.