UpChord Music Moves Its Courses Online Using ATEM Mini Pro

Blackmagic Design today announced Beijing based music production training school UpChord Music has been streaming its courses to students around the world using ATEM Mini Pro and ATEM Mini switchers.
"We didn't offer online classes until we were asked by Shanghai Theatre Academy in 2019 to teach their students music performance, because we didn't want to spend too much time frequently traveling between Shanghai and Beijing," said Zhicheng Wang, founder of UpChord Music.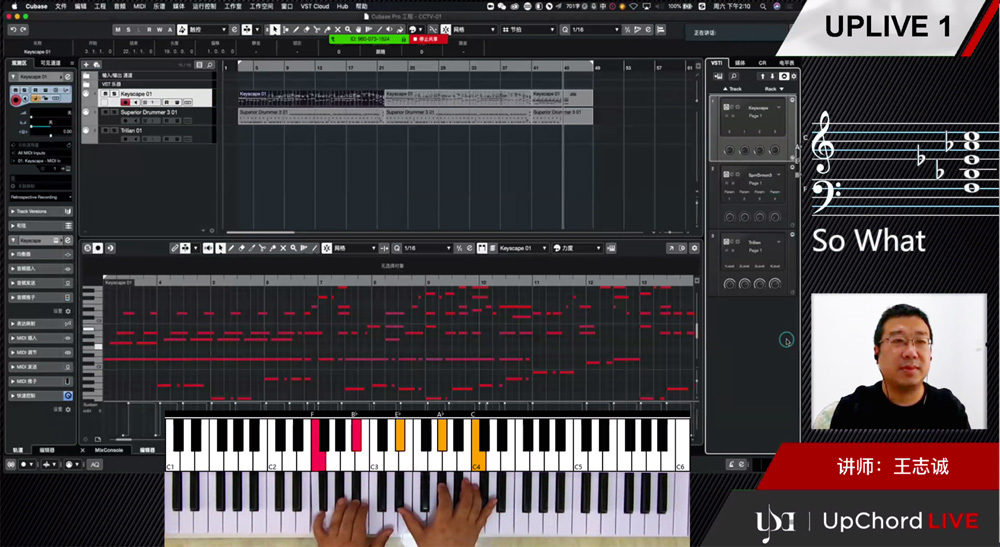 When moving the class online, UpChord's biggest concern was how to ensure the quality of online classes would be as close to that of offline classes as possible. "Online classes are not simply online video chat. As a professional music training facility, we need to show our students 1080p HD with high quality stereo sound and low latency interaction, which wouldn't be possible with only a smartphone or webcam."
With help from alumni of Communication University of China, where most of the graduates are professionals in the film and broadcast industries, Wang built up an online teaching system by combining his JoyChord system with a video switcher.
"The first video switcher we used cost more than USD $15k and supported up to 1080i60. But we found that interlaced video didn't meet our demand because the lines in musical notation look shaky in interlaced format. We worked out a solution to this issue but soon we found it made musical notation look nasty. Therefore, we started looking for a better switcher capable of 1080p HD."
"We also wanted it to be as compact as possible because we wanted to put it in a flypack so we would be able to take it anywhere when doing presentations at different colleges and schools. We chose Blackmagic Design's ATEM Television Studio HD, which supported 1080p and was so compact that it, together with the HyperDeck Studio Mini, only took up one rack unit."
"When the ATEM Mini was announced, it went beyond what I knew about how compact a professional switcher could be. Also, what impressed me most was its ability to convert and sync sources automatically, which was very friendly to beginners. They just need to connect the cables and the ATEM Mini will take care of all the rest. Also, its audio mixer is powerful. So, we bought it without hesitation."
The new ATEM Mini Pro caught his attention again when launched this April, which came with new features such as hardware streaming, h.264 recording and multiview. "We incorporated it into our workflow too. The way of operating is identical to that of operating the original ATEM Mini. When I gave it to our teachers who had been streaming with the ATEM Mini, they soon got familiar with the new model."
"Both of the models allow us to save presets including the streaming and picture in picture setups, simplifying our workflow."
For a typical UpChord online class, three feeds are used, which include the DAW's user interface, the JoyChord interface made up of a virtual keyboard and real time generated music notation and a live camera feed that captures the keyboard the teacher is playing going into a video processor, which then stitches the three feeds together. The stitched video and a live feed of the teacher on a green screen are then sent to the ATEM Mini Pro, where the teacher's video is imposed on the stitched image using the switcher's chroma keyer, while a channel logo is overlaid with a downstream keyer.
Stereo audio is embedded into the HDMI feeds and the teacher's voice is picked up by a mic as mono sound and goes into the ATEM Mini Pro via the Mic input.
The program goes into a computer that is running ZOOM via USB-c, which allows for stereo audio and HD video, as well as real time interaction.
"With this online teaching solution built with the ATEM Mini Pro, when the coronavirus outbreak forced most of training facilities to halt their classes, we were able to move our courses completely online immediately. Live streaming has also helped us break down geographic barriers, allowing more excellent teachers around the world to join us via the Internet and bring our students more diversified high quality content!" Wang concluded.
Press Photography
Product photos of the ATEM Television Studio HD, ATEM Mini, ATEM Mini Pro, HyperDeck Studio Mini as well as all other Blackmagic Design products, are available at www.blackmagicdesign.com/media/images.
About Blackmagic Design
Blackmagic Design creates the world's highest quality video editing products, digital film cameras, color correctors, video converters, video monitoring, routers, live production switchers, disk recorders, waveform monitors and real time film scanners for the feature film, post production and television broadcast industries. Blackmagic Design's DeckLink capture cards launched a revolution in quality and affordability in post production, while the company's Emmy™ award winning DaVinci color correction products have dominated the television and film industry since 1984. Blackmagic Design continues ground breaking innovations including 6G-SDI and 12G-SDI products and stereoscopic 3D and Ultra HD workflows. Founded by world leading post production editors and engineers, Blackmagic Design has offices in the USA, UK, Japan, Singapore and Australia. For more information, please go to www.blackmagicdesign.com.